PBS Software GmbH is a leading provider of supplementary software solutions for Information Lifecycle Management with SAP in the areas of data archiving, data extraction, and storage. Sigma was PBS's first partner, and have been marketing, implementing, and supporting our joint customers throughout North America since 1997. All PBS products with a direct reference to SAP are SAP-certified. PBS SAP add-on solutions can be integrated seamlessly into your SAP system to significantly improve your SAP system resources, reduce TCO, and avoid system bottlenecks.
PBS Archive
Add-ons

PBS NAI
(Nearline Infrastructure)

PBS NAA
(Nearline Archive)

PBS
CBW

PBS
ContentLink

PBS Enterprise Content
Store
PBS Archive
Add-ons
Integrated access to SAP live and archived data
Seamless access to SAP and archive files
1:1 SAP standard transactions and reports
Fast implementation without user training
Data extraction for audit requirements
Flexible solution for all SAP modules
Available for SAP ERP and S/4HANA
PBS archive add-ons enhance standard SAP archiving features and allow seamless access to archived application data. With PBS-adapted transactions and reports, users can display and evaluate archived data as if this data was still in the original SAP database.
Users can navigate seamlessly through document chains. It does not matter whether a portion of the application data has already been archived or not. This integrated, seamless data access is essential to enable SAP customers to run their data archiving much more aggressively. It is obvious why PBS archive add-ons have proven themselves successful for more than a thousand times worldwide: They help to shrink the active database and significantly reduce operational costs (TCO, licenses, etc.).
PBS archive add-ons contain several options to extract data for audit purposes and to meet legal requirements. They are available for all major SAP modules and cover more than 75 SAP archiving objects. There are hundreds of archive-enabled transactions and programs presently available. Based on a modular concept, customers can select the PBS add-ons that provide the best savings potential for their business needs.
PBS NAI
(Nearline Infrastructure)
PBS Nearline Analytic Infrastructure (NAI)
Flexible analysis and management of operational data
Smart analysis of SAP and non-SAP data
Supports migration to SAP/4HANA
Extremely short response times thanks to column-based technology
Improved compliance and data governance (GDPR)
Significant cost savings
Smart data management with NAI lets you transfer data from multiple sources to the analytic NAI database and perform integrated analytics with the SAP application. You can analyze all NAI data rapidly from the SAP GUI via transactions, reports, or generic queries. This delivers optimum support for data migration to SAP S/4HANA, decommissioning of legacy SAP systems, SAP archiving, and GDPR compliance.
Precise analysis of all your business information yields insightful knowledge you can leverage to advance your business. With PBS NAI, you can perform any analysis of your SAP environment. At the same time, PBS NAI lets you integrate increasingly important non-SAP data. Data is stored and processed in the NAI database, which can perform analytics processes at extremely high speeds. The stand-out advantage: Analytics do not affect the load on your SAP database.
PBS NAI can be implemented irrespective of the SAP database system (Any DB or SAP HANA) or ERP version (SAP Business Suite or SAP S/4HANA) you run.
PBS NAA
(Nearline Archive)
PBS Nearline Analytic Archive (NAA)
Display & analyze ERP legacy data in S/4HANA
Display ERP data in S/4HANA without losing the business context
Data analysis: Transactions/reports, ad-hoc queries, programming API
Data protection: Supports the SAP authorization concept
The perfect preparation for ERP system decommissioning
Simple installation: Minimal resources and administration required
With PBS NAA, we present a completely new concept for keeping ERP data accessible despite the change to S/4HANA, while at the same time saving licensing and operating costs. Business correlations remain and can be evaluated in S/4 via transactions, queries or reports.
The secret recipe of PBS NAA is a kind of side-car solution: The legacy data (DB + archive) from one or more ERP systems are imported into a nearline database. All data is transferred, i.e. custom, master and transaction data. This means that even small and medium-sized companies can save their ERP data completely in the original format to S/4 without burdening the new HANA database. In this way, you create the conditions for shutting down ERP systems that are no longer used productively. All you need is a current S/4HANA system to which the NAA nearline database can be easily connected. From this S/4HANA system, you then access the legacy data via your usual, customized SAP standard transactions.
Business management relationships remain intact: Imagine you want to decommission an ERP system that is no longer used productively. For example, due to legal requirements, you must keep relevant data for pension insurance for 30 years. With PBS NAA, you get the respective salary statement as it looked in the original at the time of system decommissioning.
The special thing about it: To call up the data from legacy systems, you use transactions that are structured in the same way as your familiar transactions. Thus, there is no need for additional training. 
In addition to the transactions and reports, a query tool is available that allows you to create complex queries with a simple click. Even the largest data volumes can be analyzed with extremely high performance, as the nearline database works in a column-oriented format.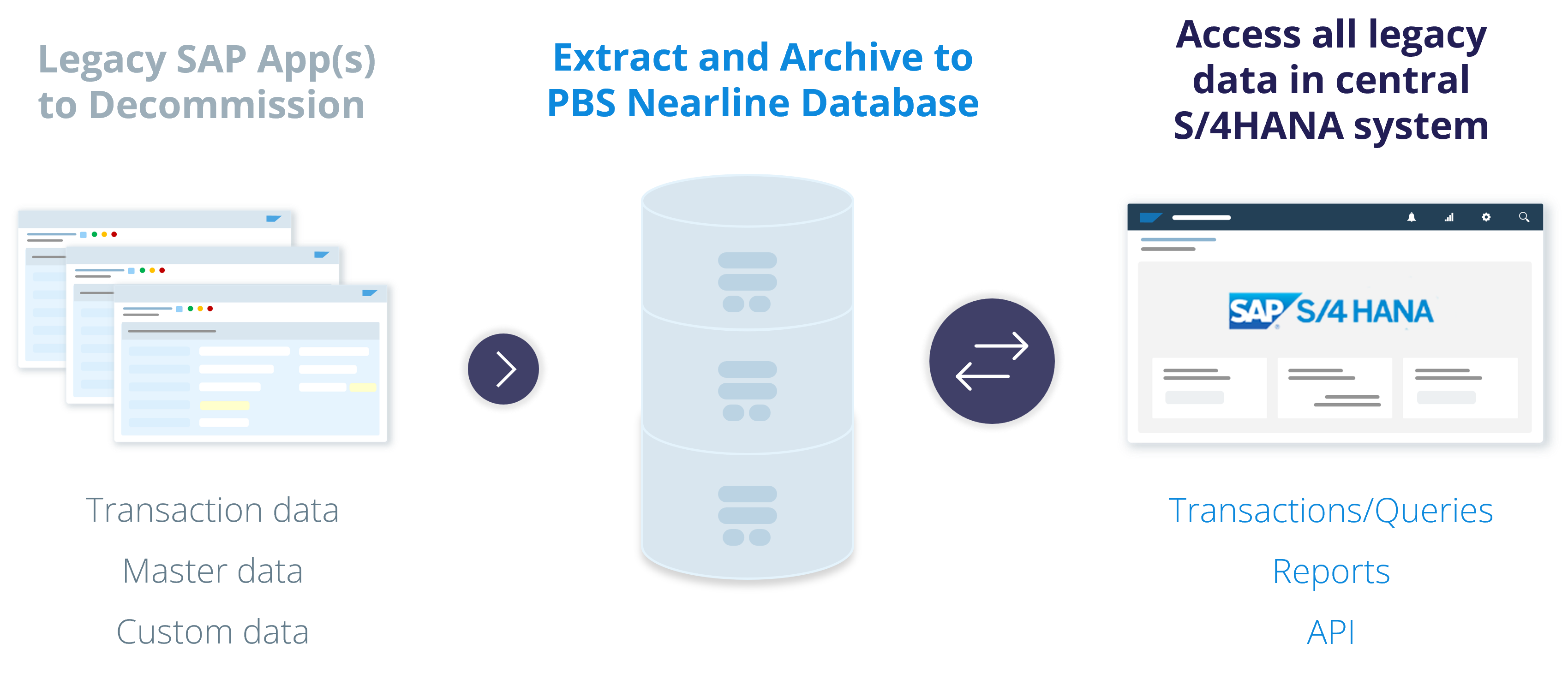 PBS
CBW
Nearline storage for SAP BW:
Faster queries while using data compression
Fast and transparent query access to NLS data
Reduce load on primary BW database
High data compression (more than 80%) through column-based database technology
Enhancements for the NLS interface providing additional data retrieval benefits
Unique monitoring and administration features
NLS solutions for combination of SAP BW (classical database) and SAP BW on HANA
The PBS nearline storage solution, CBW NLS, enables an optimal reduction of the BW database maintaining fast and effective query access to the data in nearline storage.
CBW NLS uses all advantages of column-oriented database technology to achieve extremely fast and transparent query access to InfoCubes, DSO, and even PSA tables. Data in nearline storage is ideally compressed.
The faster data access in PBS CBW NLS combined with the significant relief it provides for the primary database makes this solution essential for preparing for a migration to SAP BW on HANA. The sophisticated and highly functional features of CBW NLS provide a perfect fit to the SAP NLS interface. This makes it the unique software solution on the market which enables faster NLS data access for queries with navigation attributes or hierarchies.
PBS
ContentLink
Lean and compliant data storage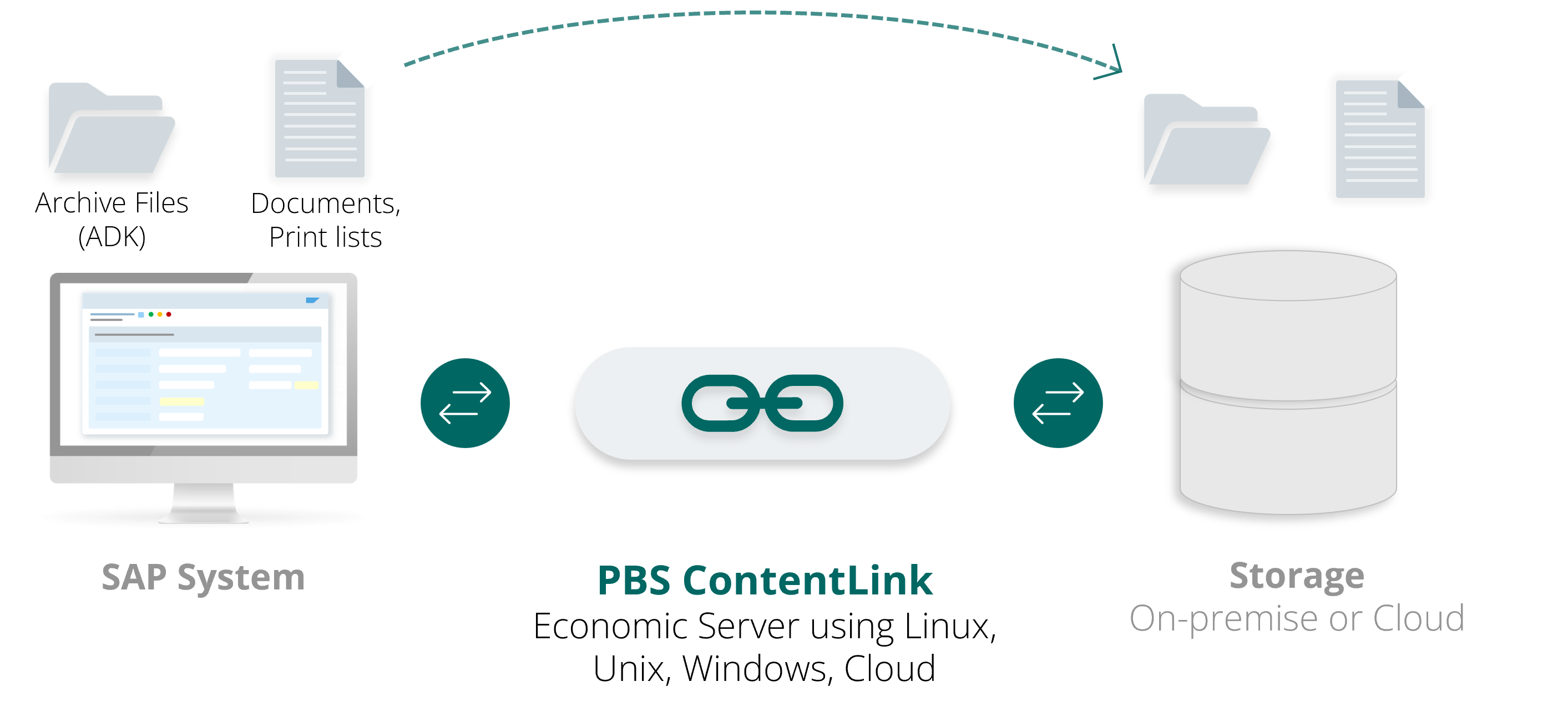 Lean and powerful interface
Connects NetWeaver-based SAP systems with fixed content storage or cloud storage
Supports SAP ArchiveLink and WebDAV 3.1 protocols
Certified by SAP SE
PBS ContentLink is a lean interface solution which provides an ideal storage option for all kinds of SAP files and document types (SAP archive files, documents, print lists, etc.). PBS ContentLink supports the SAP ArchiveLink interface as well as the WebDAV 3.1 protocol. For compliant storage, data can be enhanced by metadata containing retention values. Thus, ContentLink ideally supports the SAP ILM Retention Manager and Retention Warehouse.
PBS ContentLink covers all requirements for a compliant and highly performant data storage system and connects SAP systems with modern, state-of-the-art storage platforms. 
The administrative effort for PBS ContentLink is minimal. Neither a database nor a daily backup is required. All requirements for an SAP ILM-compliant storage are met.
A dedicated caching option accelerates access to SAP archive files (ADK). In addition, PBS ContentLink provides efficient data search options to support individual analyses. ContentLink is available for proven fixed content storage platforms and the leading cloud storage providers. Hundreds of customers worldwide are using PBS ContentLink to achieve cost-effective compliant data storage.
PBS Enterprise Content
Store
PBS Enterprise Content Store
Independent Data Access: Data Extraction, Audits, and System Decommissioning
Full, PC-based access to extracted data with no SAP system
Efficient processing of extracted data from SAP database and archives
Creation of views, reports, and analyses
Preparation of data for audits
Direct access to vouchers and associated documents from storage systems
Direct display of SAP print lists
PBS Enterprise Content Store (ECS) helps you meet legal requirements effectively. ECS includes all necessary options to rapidly extract and transfer data from your SAP systems. Existing links between tax-relevant data and original documents are maintained even outside an SAP system. ECS enables customers to easily provide and prepare the requested data. As well, there are additional, well-proven tools for data extraction and audit needs: PBS Data Export Interface (integrated into PBS archive add on CFI), PBS CDART (archive-enabled SAP DART extraction) and PBS CONEX Flex for flexible, table-based data extractions.
Application examples cover the creation of DART views, data extraction in the case of outsourcing parts of a company ("carve out") and complex SAP system decommissioning.