SAP is putting pressure on its customers, as they intend to halt maintenance on SAP ERP Central Component (SAP ECC) by 2027. Sigma Business Solutions supports SAP's goal of moving its existing clients to S/4HANA by providing expertise and strategic thought into planning and executing their migration.
S/4HANA Implementation Options​
When organizations migrate to S/4HANA, they have the option to migrate all data to the new environment, which is known as a Brownfield or System Conversion implementation. On the other hand, organizations can choose to do a complete reengineering of their SAP processes and workflows in a Greenfield approach, whereby workflows and customizations are not brought over into the new environment. Finally, a Hybrid approach can be taken, whereby organizations can choose to re-design some of their workflows and systems, while also maintaining critical customizations and solutions.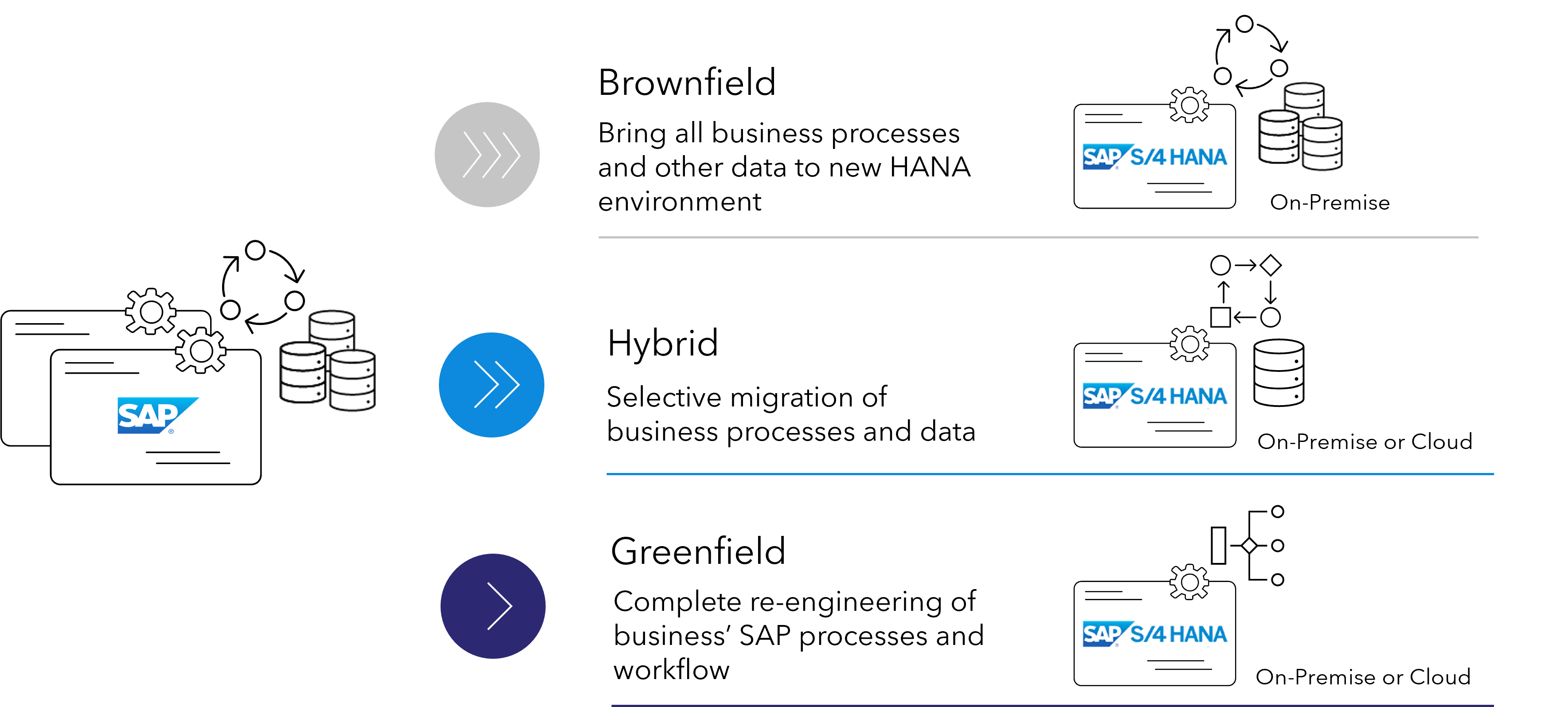 What do you do with the left behind applications?​
During a migration, organizations must assess their data and content in existing systems and decide what should be brought over and what can be purged or left behind. In any case, during a system upgrade, organizations are left with legacy applications that take up resources to maintain the data for compliance purposes, for example. ​
Sigma's proprietary solution, the Sigma Migration Center (SMC) enables decommissioning of legacy SAP applications and optimizes for database growth in the new S/4HANA environment, making it leaner, more performant, and with less cost. Decommissioning with Sigma allows for the legacy data to still be accessible in the S/4HANA environment while optimizing the new environment's data footprint. There is no dependency on originating application, so once the system is archived, it can be completely decommissioned, saving the organization on storage, maintenance, and hardware costs. ​
It is worth noting that a greenfield implementation is recommended by SAP because it can be done either on-premise or in the cloud and allows users to pre-define migration objects. From a cost standpoint, greenfield implementations result in lower total-cost-of-ownership (TCO) and time-to-value of the new S/4HANA system.
We Can Help​
In any case, Sigma is here to help you on your journey to SAP S/4HANA regardless of what stage you are in. From project recommendations to implementation and application decommissioning, Sigma's team is equipped to ensure success of your migration.
​Have Questions?​
We'd love to hear from you! We know these initiatives can be a huge undertaking, and we are here to support you in any way we can. ​
To learn more about the Sigma Migration Center and decommissioning SAP applications with Sigma, please contact one of our experts today.​
Email​
info@sigma-sbs.com​